IDM-004 Shipwreck
Filipe Castro
Country: Mozambique
Place: Ilha de Moçambique
Coordinates: Lat. ; Long.
Type: Unknown
Identified: No
Dated: circa 1600
Introduction
This wreck was found during a visual survey around the Island of Mozambique on the 4th of July 2001 and inspected the same afternoon. In the course of its reconnaissance and assessment, two dives were done.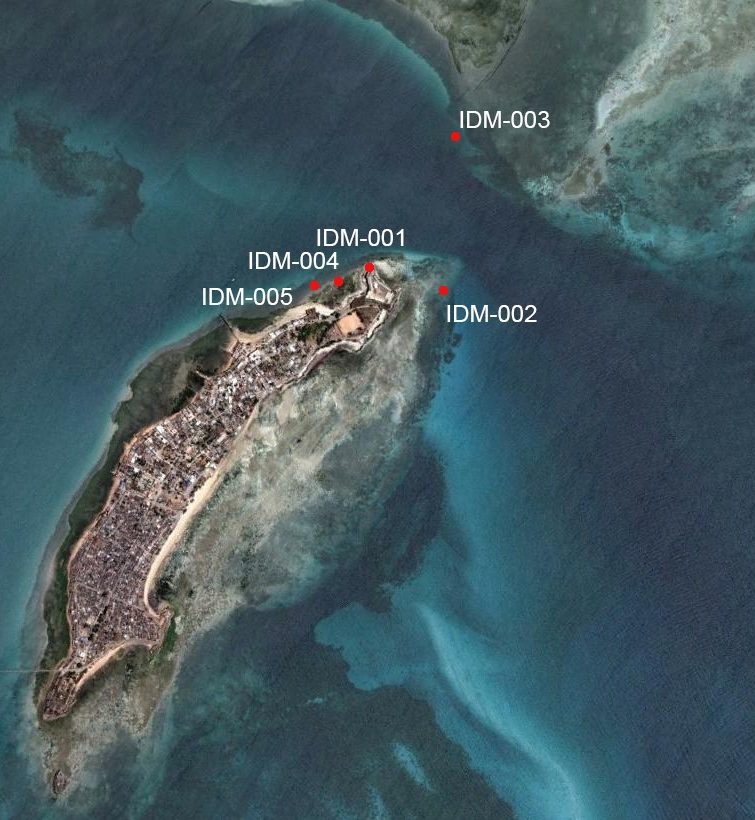 The site was located at 3 m depth in front of the entrance of the fortress and a ballast pile of small stones was exposed, covering what was described by the treasure hunters as small pieces of wood. Fragments of ceramics were found (possibly Portuguese). No other visible signs of wreckage are present.
The site was deemed uninteresting due to its shallow location, near Forte S. Sebastião, and therefore unlikely to have "important archaeological and/or cultural material."
Team
This site was surveyed by a team of the treasure hunting company Arqueonautas SA., under the direction of Mr. Alejandro Mirabal.
Ballast
Just referred to as composed of "small stones."
Anchors
Not mentioned.
Guns
Not mentioned.
Iron Concretions
No information.
Hull remains
No hull remains were reported.
Caulking
Not reported.
Fasteners
Not reported.
Size and scantlings
Not reported.
Wood
No timber samples were reported.
References
Mirabal, Alejandro, 2001.