Battlefield Archaeology
Submerged Battlefield Survey Manual
Jennifer F. McKinnon, Madeline Roth, Toni L. Carrell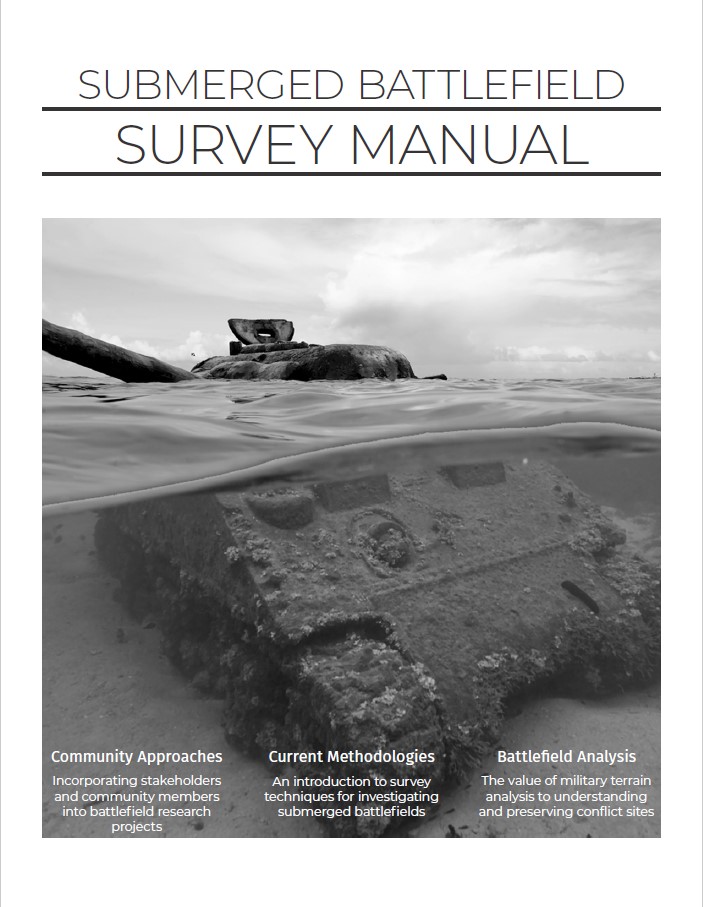 "The archaeology of battlefields is a relatively recent area of study. Beginning in the 1980s, the subfield adapted terrestrial and submerged research methodologies to record and analyze historic battle sites.
Closely related to conflict archaeology, the study of battlefields addresses both material remains of the conflict and the landscapes that facilitated combat. Because battlefields vary in environment, historic context, and scale, there is no standardized approach to battlefield survey. Every project has different parameters and will require a specialized recording strategy for investigation and preservation.
FRONT COVER: SHERMAN TANK, SAIPAN. IMAGE COURTESY OF SHIPS OF DISCOVERY
Similar to many archaeological resources, American battlefield sites face destruction from development, changing environmental conditions, and human actions. Submerged battlefields are threatened by looting and treasure hunting in addition to biological and chemical deterioration. While environmental factors may be outside the control of those interested in site preservation, community appreciation for historic battlefields is crucial for their protection. The necessary first step to any long-term preservation is battlefield identification and documentation.
The study of submerged battlefields is guided by current battlefield research methodologies, including analysis of historic documents, terrain, and artifacts. The major difference between terrestrial and submerged battlefield archeology is the environmental site context; working in submerged environments requires the use of different technologies to access sites and interpret terrain features. The aim of this manual is to present the steps necessary for identifying, recording, and preserving submerged battlefields and is designed for use by SHPOs, THPOs, and ABPP grantees."
Grant Agreement No. GA-2287-17-015 American Battlefield Protection Program Submerged Battlefield Survey Manual. Jennifer F. McKinnon, Madeline Roth, Toni L. Carrell Ships of Exploration and Discovery Research, Inc. 2020. This material is based upon work assisted by a grant from the Department of the Interior, National Park Service. Any opinions, findings, conclusions, or recommendations expressed in this material are those of the author(s) and do not necessarily reflect the views of the Department of the Interior.