Etoile Shipwreck
Filipe Castro
Country: Madagascar
Place: Star Reefs, Recif de l'Etoile, or Harandriakan' ny Kintana
Coordinates: Lat. -25.33333; Long. 44.2
Type: Unknown
Identified: Santo Ildefonso, 1527. (tentatively)
Dated: Early 16th century
Introduction
This shipwreck was probably found by a group of French sport divers in 2004. The site was described as a mound of copper ingots and perhaps 40 bronze bronze guns, suggesting an outbound vessel. An unknown number of anchors were embedded in the coral nearby. One gold coin of 4000 reis from D. João III (k. 1521-1557) suggest a date in the second quarter of the 16th century. The guns were undoubtedly Portuguese.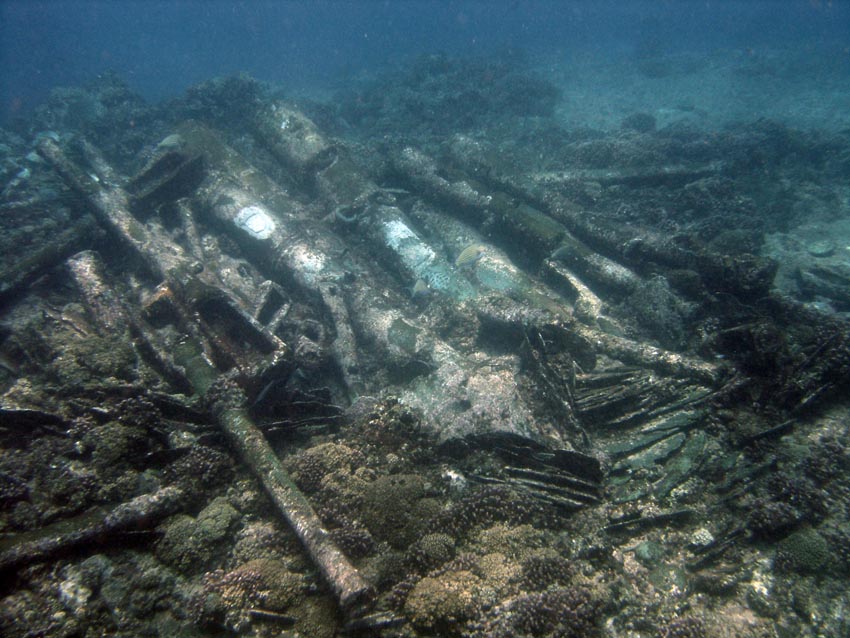 A group of 12 small bronze guns – about 155 cm long – were raised and exported, but they were caught in Mayotte and seized by intervention of the French DRASMM. One of these guns was octogonal. It is probable that more guns were raised and sold elsewhere.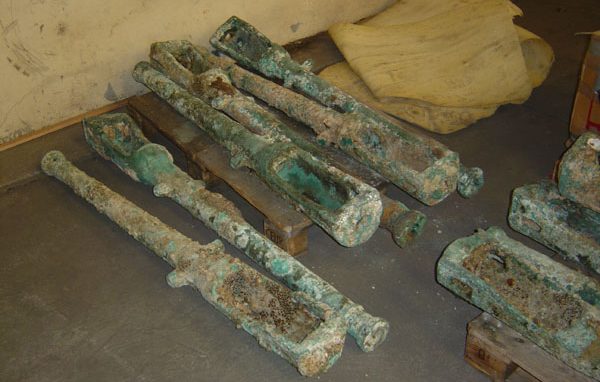 Two years later a second group of divers, under the direction of Mr.  Jean Christophe Peyre, surveyed the site shortly and positioned the mound of bronze guns and copper ingots.  A site plan was developed and a photo mosaic. More than 30 guns were still in situ, some breech loaders with 260 cm and seven muzzle loaders with rings, measuring 310 cm in length.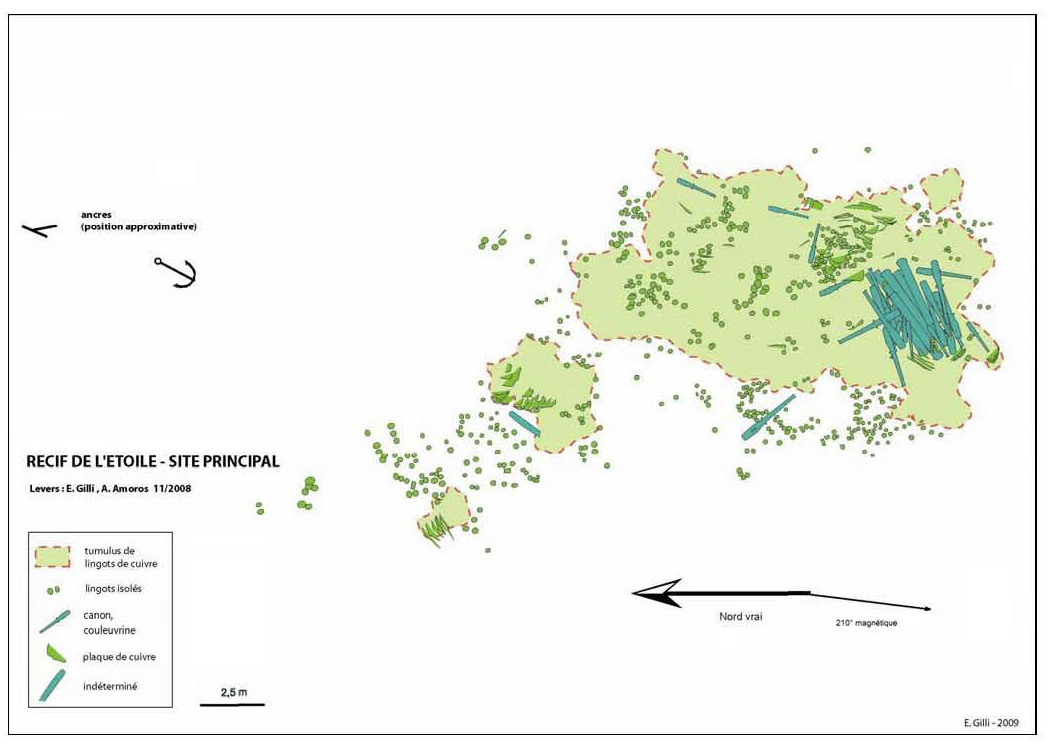 Peyre's group accepted the identification of this vessel as the Sto. Ildefonso, lost in this area in 1527. This tentative identification was proposed by Mr. Pierre van den Boogaerde (2009).
A second site (Etoile 2) was located in 2009, by Mr. Peyre's team, consisting of two large 310 cm guns and copper ingots.
Mr. Peyre's report indicates four sites on this reef where parts of the ship ended up resting, given the dynamic nature of the sea in this area. The site designated Etoile 1 may be the original site of the shipwreck, where the heavier cargo was thrown overboard.  The second site, with the remains of the ballast, may be the ship's bottom, and the third and forth sites seem to be the result of the wreckage process.
Team
2004 – Alexis Rosenfeld and three colleagues.
2006 – Jean Christophe Peyre, Eric Gilli, André Amoros, Andréa Gobetti, Eric Citone, François Sarti.
2008 – Jean Christophe Peyre, Mbolatlana Ranorohantamalala, Jocelyn Anuara, Ezra Rakotondrahery, Frédéric Lucas, and Marc Noverraz.
Ballast
Ballast is not referred in the salvage accounts, but later, in 2008, a ballast mound was found nearby, probably in the place where the bottom of this ship came to rest, designated as Etoile 2 site.
Anchors
An undetermined number of anchors was mentioned, but it was difficult to say if they were all related to the shipwreck.
Guns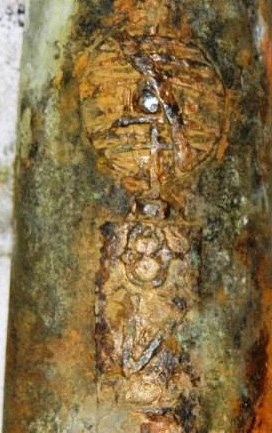 More than 40 guns were probably resting on this site.
Mr. Peyre refers three types: breech loaders with 155 cm and 260 cm, and muzzle loaders with 310 cm.  Many of these guns have the Portuguese arms (left) and some have makers' marks, but the pictures published do not allow us to identify the makers.
At least six of the 260 cm breech loaders appeared for sale on the internet – at a site named www.cannonsuperstore.com – together with an unknown number of copper ingots.
As we write this synopsis about this interesting shipwreck, in 2020, we have no news of the destiny of this gun collection, and no knowledge of a published inventory of the guns.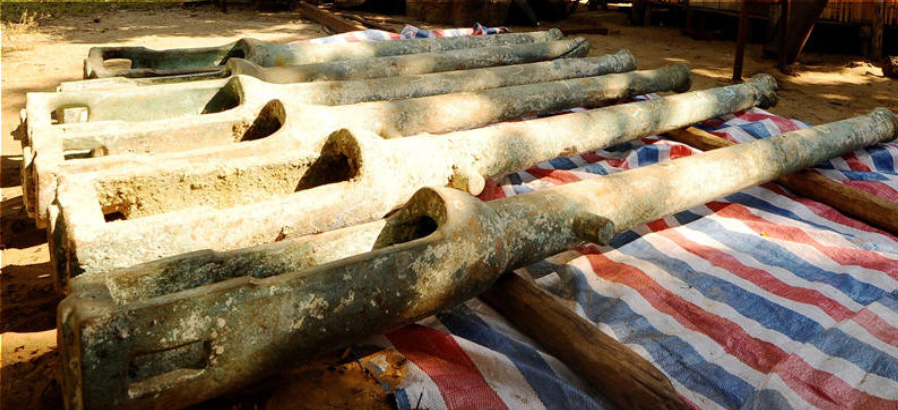 Guns – 260 cm breech loaders? – allegedly for sale in the website referred above (www.cannonsuperstore.com).
Cargo
This ship carried a large quantity of copper in semi-spherical ingots with a diameter of around 20 cm and weighing around 7 Kg, and plaques of copper.  Analysis of two ingots returned an alloy with 98.2% of copper.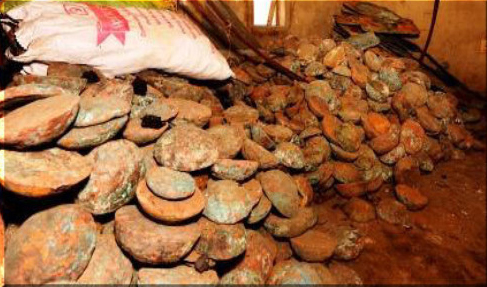 The finders mentioned that some flat ingots were marked with the letters "awl."  A picture from these ingots shows the well-known Fugger mark, typical in Portuguese export ingots of this time.
There is no catalogue of the ingots and it is therefore impossible to know the variation of weights and diameters, shapes and marks.  For instance, in the Bom Jesus shipwreck (1533) the Fugger marks appeared in three different versions (Chirikure et al. 2010).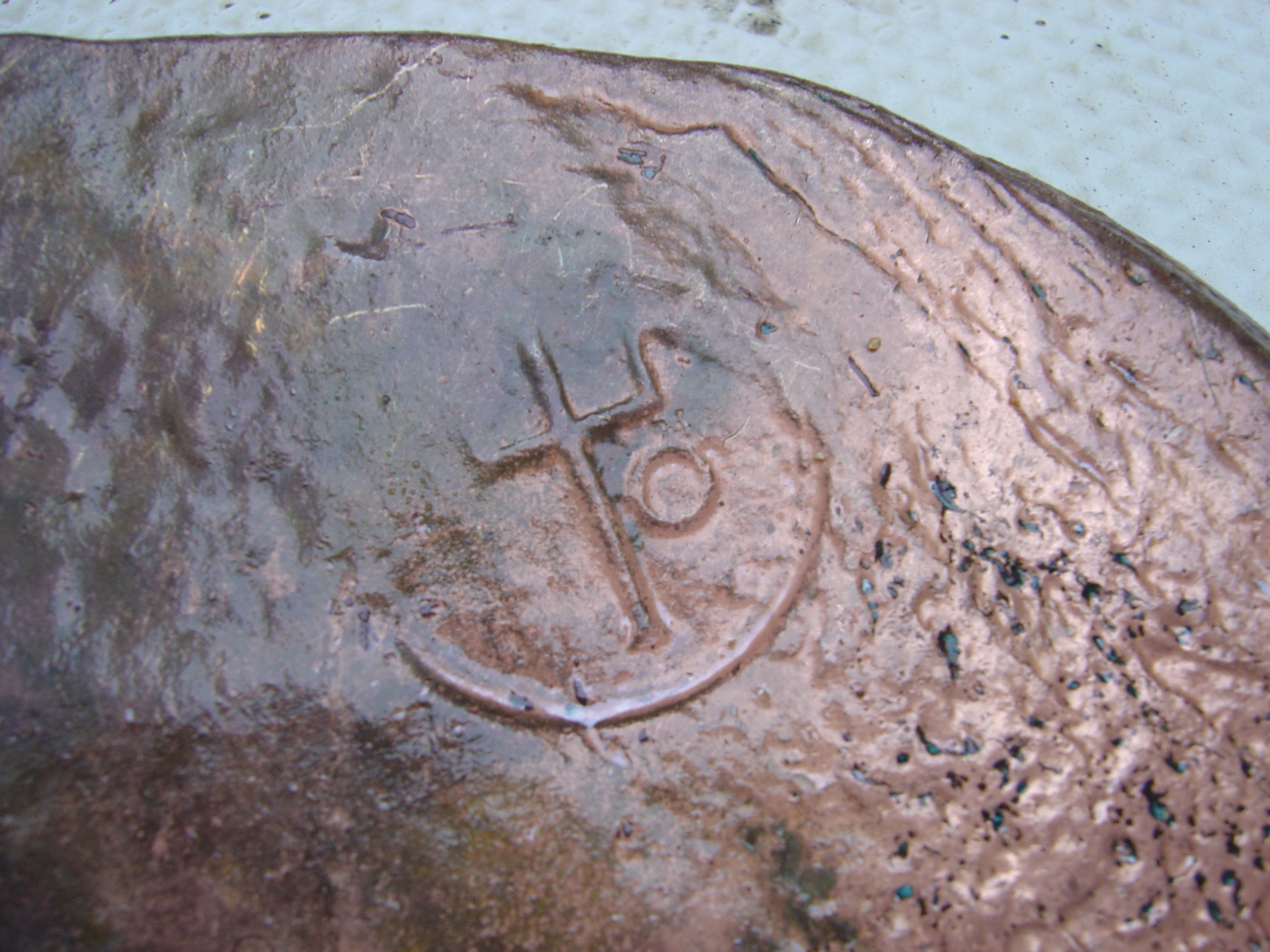 Some elephant tusks were present, mostly broken and embedded in the coral.
Iron Concretions
No information.
Hull remains
No hull remains were reported.
Caulking
Not reported.
Fasteners
Not reported.
Size and scantlings
The number of guns suggests a large vessel but no hull remains are reported.
Wood
No timbers were reported.
References
Boogaerde, Pierre van den, 2009. Shipwrecks of Madagascar. NY: Eloquent Books.
Peyre, Jean Christophe, 2008. Raport No. 1. Missions. Janvier-Decembre 1008. Digital Report.
Peyre, Jean Christophe, 2009. Raport No. 2. Missions. May – Juin 2009. Digital Report.