IDM-001 Shipwreck
Filipe Castro
Country: Mozambique
Place: Ilha de Moçambique
Coordinates: Lat. ; Long.
Type: Unknown
Identified: No
Dated: 1550-1650
Introduction
According to Alejandro Mirabal (2001), this site was found during the systematic visual survey around Ilha de Mozambique on the 15th of May 2001. In the course of its reconnaissance and assessment 24 dives were done amounting to 29.45 hours of bottom time.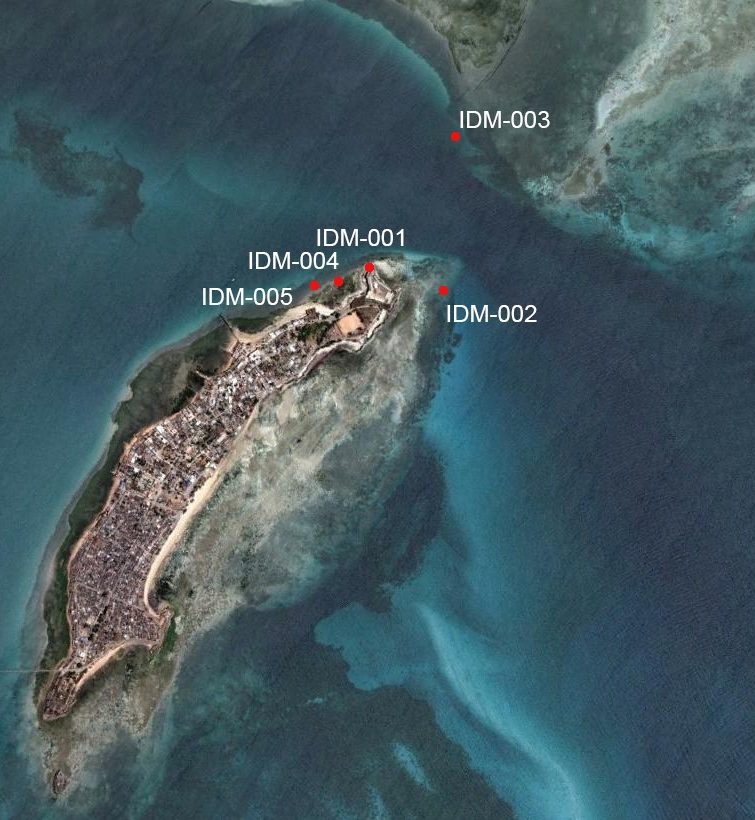 It was referred in a 1964 report by Pedro Quirino da Fonseca, who recovered an unknown number of the artifacts, including anchors and at least one half-spherical lead ingot with 17 cm in diameter and weighing 9.6 Kg.
The shipwreck wreck is located at a depth of about 7 m and consist in a ballast mound of small stones (average size of 20 cm), some timbers visible on the surface, and a small intact olive jar, which was recovered for identification purposes. Fragments of Chinese porcelain and some coarse ceramics were found badly fragmented a few centimeters under the sediment of thick sand and shell fragments.
The shipwreck site extends to the North, into the channel, where ceramic fragments and glass bottles were observed.
An iron rudder pintle and a timber were exposed in the scatter of ballast stones.  A test pit was opened and revealed hull remains under a layer of ballast stones. Lead sheathing was still attached to the planking.
One small fragment of white/blue Chinese porcelain was also observed on the site. The depth of the sediment is described as considerable, but there is no indication of its thickness.
Team
This site was surveyed by a team from Arqueonautas SA., a treasure hunting company that operated in Mozambique from 2001 to 2015.
Ballast
Ballast with 20 cm dimensions is not further described.
Anchors
Not mentioned.
Guns
No information.
Iron Concretions
No information.
Hull remains
Hull remains were reported but not described.
Caulking
Not reported.
Fasteners
Not reported.
Size and scantlings
No data.
Wood
No samples are reported recovered for timber analysis.
References
Fonseca, Pedro Quirino da, 1964.  Pesquisas arqueológicas submarinas em águas de Moçambique.
Fonseca, Pedro Quirino da, 1972. "Algumas Descobertas de Interesse
Histórico- Arqueológico na Ilha de Moçambique," in Monumenta, Boletim da
Comissão dos Monumentos Nacionais de Moçambique, nº8, Moçambique.
Mirabal, Alejandro, 2001. Interim Report of the Marine Archaeological Survey performed in Ilha de Moçambique, from May to July 2001.  Online PDF report, Arqueonautas Worldwide SA.