Punta Cana (c. 1545)
Filipe Castro
Introduction
Country: Dominican Republic
Place: Punta Cana
Coordinates (approximate): Lat.  18°27.239' N; Long.  68°24.646'W.
Type: Unknown
Identified: No
Dated: Circa c. 1545.
Shipwreck Site
Tentatively identified by the treasure hunters as Nuestra Señora de Guadalupe, this site was located in shallow water, between 4 and 7 m deep at Punta Cana. It was salvaged by an American company named Anchor Research Salvage (ARS) between 2011 and 2013.
Site Plan
A site plan was published (Roberts 2013a), showing two anchors, three wrought iron tubes, five powder chambers, two versos,and one copper alloy breech chamber. Charles Beeker report (2014) mentions one verso and six wrought iron powder chambers.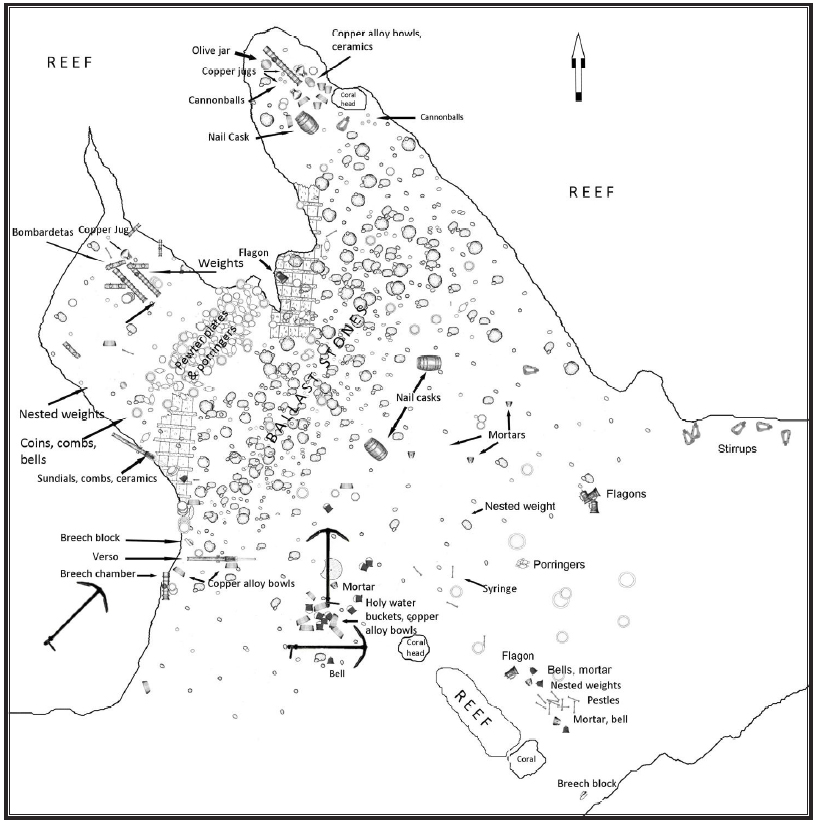 Guns
One of the pictures that circulated on the internet showed one bronze breech loading gun, but the picture is too small to allow a close inspection.

Cargo
This shipwreck is mostly known for carrying a large collection of English pewter, with about 1,200 items.
References
Beeker, C., 2014. Naufragio del Siglo 16 de Punta Cana: Informe Resumido de Evaluación Arqueológica No-Invasiva. Oficina de Ciencias Subacuáticas Universidad de Indiana.
Roberts, M., 2013a. "The Punta Cana Pewter Wreck: Discursions on a Discovery," Journal of the Pewter Society, 31.3: 14-31.
Roberts, M., 2013a. The Punta Cana Pewter Wreck. Report (https://www.academia.edu/5090970/The_Punta_Cana_Pewter_Wreck._Pewter_Origins_Styles_Makers_and_Commerce)