San Pedro (1596)
Ricardo Borrero L
Introduction
Country: Bermuda
Type: merchant nao
Identified: San Pedro
Dated: 1596
History of the shipwreck
The wreck was first discovered by Teddy Tucker and Donald Canton in the 1950's and since then it became known as "Tucker Canton Treasure Wreck". Tucker and Canton recovered several artifacts and guns from the site and sold them to Bermuda Monument Trust.
The artifacts were kept at the Bermuda Aquarium, Museum and Zoo and were later transferred to the Bermuda Maritime Museum.
The site was revisited by Tucker and Mendel Peterson of the Smithsonian Institute in 1957, 1960, 1961. In 1966 the Bermuda National Geographic- Smithsonian Expedition conducted a survey in the western reefs of Bermuda using a surface-towed antisubmarine warfare magnetometer and they took advantage of the opportunity to revisit the wreck, which was tentatively identified as the 350 merchant nao San Pedro of the New Spain Fleet that sunk in Bermuda in 1596.
In 1987, staff from the Bermuda Maritime Museum began the research and recording of Tucker's collection, which is composed of artifacts of many different shipwrecks. Unfortunately, the provenience of the objects was not recorded and it is not clear to which shipwreck do the artefacts belong. A field season was organized, to map the site a localize potential hull remains. Beyond some wood fragments, no hull remains were found after excavating a test trench.
Description of the site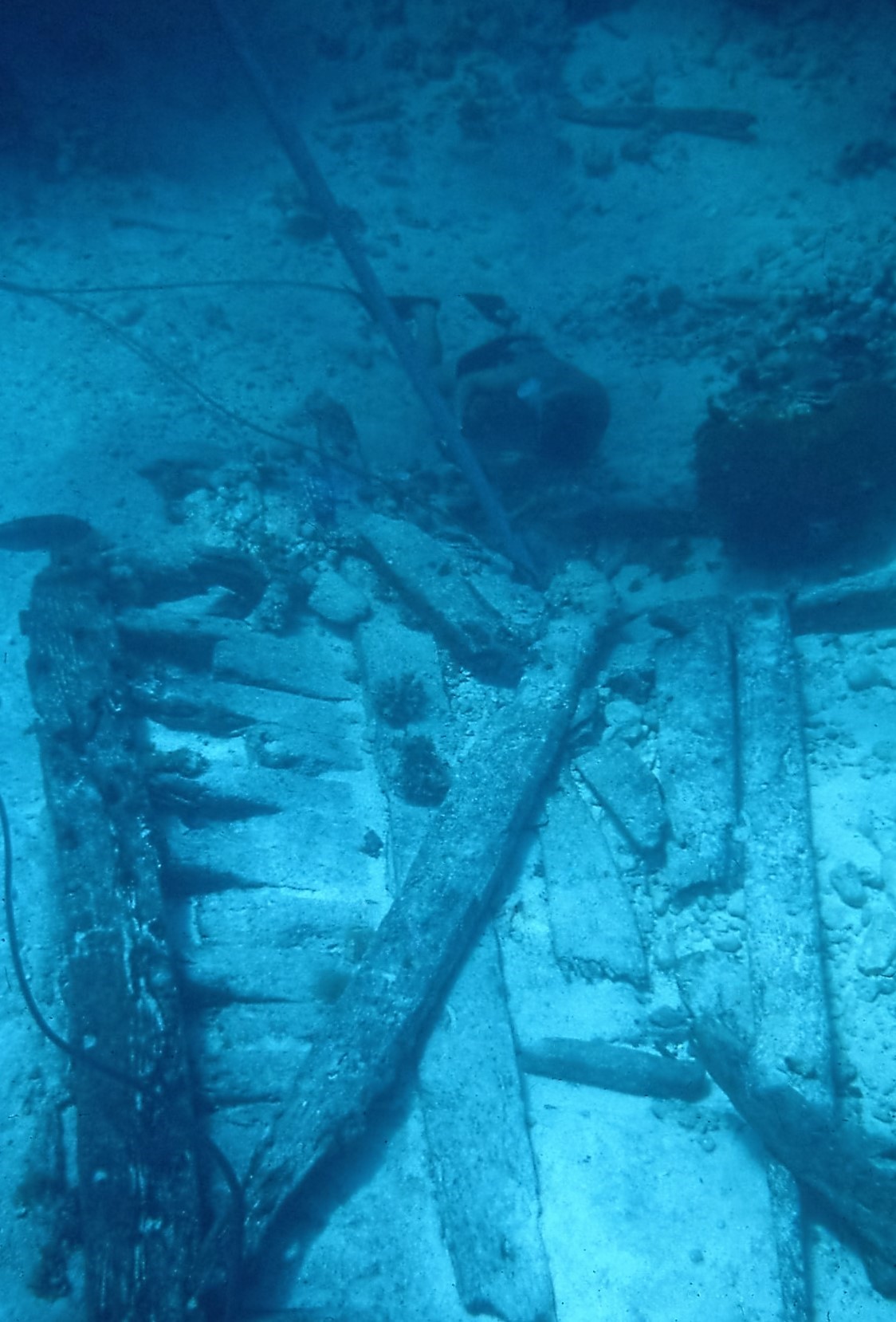 The site is located in a sand hole surrounded by coral at a depth of approximately 25 feet. Ceramics, ostrich egg shells and iron concretions helped the researchers to relocate the site in 1987.
Cargo
 Food
 French pewter, Fine ceramics, majolica, gold bars, gold ingots, pearl studded buttons, silver coins, emerald pectoral cross with chamber for relic.
 Tools
Claw hammer and axe (steel?)
Navigation instruments
Mercury hour glass, two pairs of brass dividers (10.8 cm long) decorated with an x pattern in the upper part of the legs, remains of three small sand glasses. The filling was probably black marble dust. One of the sand glasses was blown as a single piece.
Hygiene and health
Dutch bronze mortar, Pewter clyster syringe
 Others
Carved staff of office of an Indian chief, black palmwood brows and arrows, ground stone mace head, gold bullion (cigar shaped bar ingots, disc ingots), silver (French and Spanish) coins – only one out of more than thousand, survived in the Museum – and jewelry, porcelain (Swatow), stoneware, earthenware, enamel ware (Seville blue-on-blue, Santo Domingo blue-on-white, green glazed Merida type), ostrich egg shells, bronzeware, pewterware, large flat bottomed and egg-shaped olive jars. Some of the coins were found inside a pigskin pouch.
Personal possessions
Hexagonal lead box with relief of a man in an armor and a woman in a dress, inkwell, gold reliquary cross set with 6 emeralds engraved with Moresque designs in the reverse, three sets of dress jewels (pearls), glass jewelry (higa)
Ballast
 Flint ballast from the site was analyzed by the British Museum and apparently it came from France or Cornwall, England.
Anchors
 An anchor was raised in 1950's and sold to the Bermuda Monument Trust.
Guns
Heavy and light weapons. Six cast iron cannons and four wrought iron swivel guns (versos) were raised and sold to the Bermuda Monument Trust. A single cast iron gun was given proper conservation treatment. The trunnions are below the centerline. It was originally attached to its carriage, but no conservation treatment was given to it and it is lost.
| | | |
| --- | --- | --- |
| Type | Length | Bore |
| Falcon | 186.7 cm | 5.7 cm |
Four breech chambers for swivel guns of two different types were found on site: almost cylindrical with stepped neck and shoulder on the chamber base and a handle attached to both ends; almost conical with handle open at one end. One of the recovered breech chambers was loaded with powder, flint pebbles and tow wad. The powder was sampled and it was carbonaceous containing charcoal of hardwood.
Six types of shots were identified. Round shots range from 3.64 to 6.25 cm and an average eight of 680 g. Another type of shot found on site is the boduque, a lead-covered or brass-covered iron dices. The boduques found on this wreck range from 4.50 cm to 6.74 cm and an average weight of 907 g. Cross-bar shots and langrel shots were also recovered from the site.
Brass grenades and personal weapons, including six wooden hand stocks from match-lock weapons (probably harquebuses and muskets), a copper pot filled with musket balls, linked-shots, a soldier's steel helmet and breastplate, a cutlass and a boarding axe were also found on site.
Iron concretions
 Many iron concretions were found and left on site in the excavation of 1987.
 Rigging and outfitting
Three lap-welded fiddle-shape dead-eye strops, including one with a wrought iron chain link still attached were found on site. An eye-bolt and swivel fitting with eight chain links ending in a ring and a bronze sheave from a pulley block were also recovered. An iron gudgeon strap measuring 33 cm long was also recovered. It has flared strap ends that are 15 cm wide and narrow to 10 cm at the hinge. The gudgeon ring is hammer-welded to the strap and measures 8.5 cm in diameter. The strap has seven holes for fasteners and apparently the holes were made before the ring was hammer-welded.
Hull remains
No hull remains have been reported, but flint ballast and ship's fittings were found on site. More than ten complete spikes ranging from 24.3 cm to 10 cm were recovered. The fasteners have a flat square head and the shafts are square in section.
References
Hoyt, C.A. 1972. Bermuda in the Age of Exploration: Preliminary Report on Artifacts from a late 16th-Century Shipwreck. Bermuda Journal of Archaeology and Maritime History. 2: 25-60.
Peterson, M.L. 1972. Buried Treasure beneath the Spanish main. Unesco Courrier. 23-27.
Peterson, M.L. 1973. Bermuda Underwater Expedition, 1966" National Geographic Society Research Reports, 1966 Projects. 213-128.
Smith, R. 1978. New World Shipwrecks 1500-1800: A Compendium of Sites Salvaged or Excavated. 18-19.